Steak and Blowjob | The Hun's "Did You Know"
1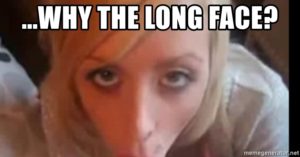 People, don't forget, March 14 is international steak and blowjob day! There's a good steak recipe from last year, we thought this year it would be a good idea to post a good blowjob recipe.
A blowjob is a shot that you drink without using your hands. The ingredients are simple: 1/2 oz Kahlùa, 1/2 oz Baileys and 1/2 oz whipped cream. First pour the Kahlùa and then carefully add the Baileys, making sure it floats on the Kahlùa. Top it off with the whipped cream. Alternatively you can make the same shot using Irish Cream Liqueur and Amaretto.
Now, for people that prefer wine or a cold beer with their steak, there are alternative blowjobs you can think of. Be creative! There are plenty of techniques listed on thehun! 🙂 Happy Hunning!